FOUCAULT PENDULUM LIVE
IN SAN SPERATE SITE (ITALY)
THIS IS A SHORT PENDULUM.
IT MAY BE INSTALLED IN A ROOM OF NORMAL HEIGHT
CHARACTERISTICS
- Length at the center of gravity of the suspended mass: 2.80 m.
- Diameter of the base hour dial: 40 cm.
- Elongation: 25 cm.
- Latitude of San Sperate site (Sardinia Island, Italy): 39.35°.
- 360° rotation of the oscillation direction in: 37h 51min.
- Angular speed: 9.51°/h (This is the zenital angular speed of the Earth
in this site).
- Since the oscillation period is approximately 3.5 sec and each
half elongation is 125 mm long, the oscillating mass advances
with each oscillation of 20 microns on the base hour scale.
The Foucault pendulum is a very delicate experiment: it must reveal a force (the Coriolis force) which is about one millionth of any other force in play, the main one being the weight of the oscillating mass. The entertained Foucault pendulums are all the more delicate the shorter they are. Since possible errors are added to each oscillation, the requirements for symmetry, centering and timing of the excitation, precision of the suspension point are all higher the shorter they are.
A SHORT CLOSE-UP VIDEO SHOWING DETAILS

A REVOLUTIONARY FOUCAULT PENDULUM
1. It does not require the Charron ring just below suspension point
of the wire. A much simplified installation: only two dowels
in the ceiling.
2. It does not require an electronic system to keep the amplitude of
the oscillations constant.
3. The trigger for the driver circuit is generated electromagnetically,
so no unreliable mechanical or optical system is adopted.
4. The driving electromagnet is a simple coil in air. No iron core.
5. The drive current is 70 mA peak at 12 V. Battery
or solar power supply with a buffer battery are possible.
6. The suspension point is as simple as possible: a clamp holds
the harmonic steel wire of 0.4 mm in diameter. The pendulum
has been swinging continuously for the last 12 months;
the amplitude of the oscillations is only 25 cm.
7. A system synchronized by a 24 h timer can be inserted which allows
at every midnight to restart the pendulum from the direction
of the number 12 on the bottom hour scale. In this way
the pendulum becomes a clock for the next 24 - 36 hours.
THE SITE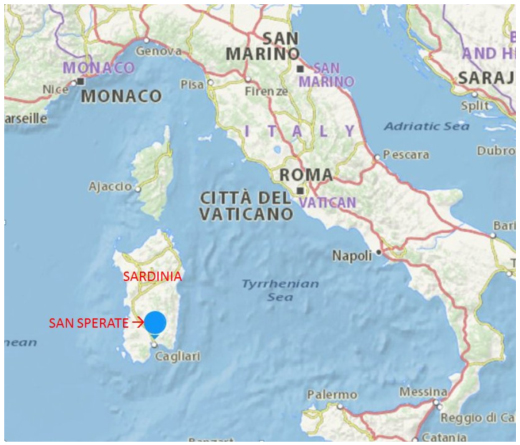 CREDITS
Constructor: Prof. G. Pegna, Dept. of Physics, University of Cagliari (Italy) pegna@unica.it - www.pegna.com
Streaming: Mattia Pegna, matty@tiscali.it
Psychiatric help: Luisa Amat di San Filippo, luisa.amat@tiscali.it
THANKS
I would like to thank in particular prof. G. Malloci, prof. A. Bosin and doct. L. Mureddu for their interest, and all the friends who have assisted me in the undertaking of the construction of the pendulum and in my frustrations for the subtle mysterious errors I could not find.
Pegna Physics Lab. San Sperate (Ca), nov. 22, 2020